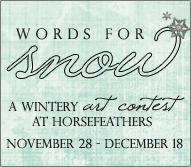 So today's the last day to enter Olivia's contest "Words for Snow," and I decided to enter. The entry can be just about any genre of art, as long as it has something to do about winter. I've written a short story (
very
short), which I'm going to enter (about 400 words). I call it:
Winter Girl in a Summer World
Closing her eyes, she could practically smell the cold, crisp iciness of a winter wind. The taste of snowflakes melting like some delicate crisp candy on her tongue was almost tangible; it could only be described as pure crystal. She could almost feel the delightfully soft and crunchy texture of snow between her fingers, reddening her skin and tingling her all the way down to her toes. The purity of the world shone bright in her mind's eye -- ground washed white in a splendor of snowflakes and healed from the burning, harsh flame of fall and the withering overwhelming heat of summer.
Summer.
The word sat in her mouth, waiting for her to embrace it like all others did. But she refused, spitting it out like a rotten apple. Why did her thoughts always have to go back to this? For that matter, why did the world always have to go back to this? Her pale face puckered into a deep grimace, and she opened her ice-blue eyes.
The scene stretched out verdant and brilliant before her, the epitome of a perfect summer's day. The sky hung sultry and sapphire over the brilliant mass of green trees, the mirrored blue of the lake, and the jeweled heads of flowers all shades of the rainbow. Everything was bright, beautiful and lush.
But not to her.
She felt the hate welling up in her again in her. It was so strong she almost sank under the weight of it. All this color, all this noise and rush and heat was too much for her. It hurt her eyes just to look at it. If only she could wish this all away -- make it always winter.
Someone had once asked her why she hated summer so much. "There has to be some kind of explanation for it - I mean nobody hates summer."
She hadn't been able to give a good explanation to the person, not one they would accept, anyways. She tried describing the delights of winter - the sights, smells and sounds that entranced her senses. Or even detailing the dreadfulness of summer - how hot, dreary, loud, and busy it was. But she was greeted only with puzzled looks and blank stares.
The dark-haired girl looked again out into the vivid green. She would never belong in this bright world with its crazy colors, noisy bugs and birds, and myriad of smells to overwhelm the senses. Only when it faded into the soft, dreamy shades of winter was she truly happy.
Her face reflected the creamy white and the pale icy blue of her favorite season... and she closed her eyes.
(all rights reserved, please do not copy without permission)